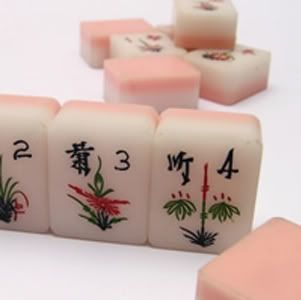 1.  I received a mahjong set for my birthday.  It should be noted that this is NOT the same as the computer mahjong solitaire game.  It is, instead, a box filled with a bunch of adorable little tiles.  I am dying to learn how to play, mostly because I envision girl-only mahjong parties where we chat and play while drinking some sort of light, frothy beverage.  Maybe we wear frilly dresses, too.  Also, my understanding is that during game play, you sometimes get to shout out words like "Clack!" or "Crack!" or "Click!"  Something like that.  It sounds very exciting and ANY DAY NOW I am going to get it together to learn it and host a party.  Seriously.  Any day.
2.  New favorite item from my beloved Trader Joe's: "Raisin Rosemary Crisps."  Throw a handful on a plate with a scoop of ricotta cheese drizzled with honey and a few sliced fresh figs.  Delicious, mildly healthy, and makes you feel like a fancy-pants.  You're welcome.
3.  I am happy to report that I am in development on a TV series with the truly wonderful Jim Henson Company.  I wrote on the most recent season of DINOSAUR TRAIN and I just love everyone over there.  The whole team is smart and creative and talented (and, seriously, everyone is really pretty — SO HOLLYWOOD!) and I couldn't be happier to be working with them.  It's a project that I developed with Michael Stokes and it's just one that I really, really love.  I can't share details, BUT I can tell you that it's in the tween space and there's a magical element to it and it's only being made better by what JHC is bringing to the table.  Good collaboration is a beautiful, beautiful thing.  Oh, also Henson is located on the old Charlie Chaplin Studios lot, so going over there is this breath of beautiful old Hollywood air.  LOVE.
4.  The above does not preclude me from being swamped with meetings about other projects.  I am seeing a lot of the Los Angeles freeway systems, people.  A LOT.  The 405 is particularly a nightmare right now because improvements are being made to the Sepulveda Pass.  Last year (was it last year?) we had the "Carpocalypse" during which a stretch of the 405 was shut down for a weekend while work was being done.  It turned out to be not nearly as… carpocalyptic… as everyone had imagined.  However, the current "Rampture" (who gets to make up these names?) is longer lasting and, to me, much more annoying.  Because I loathe the thought of arriving late at a meeting, I leave way way way early.  Often, this results in me sitting around at a nearby Starbucks for half an hour before the meetings (or, let's be honest, in my car playing Scramble on the iPhone).  Anyway, my point is that it's made me very grateful for the opportunity to very often get to work at home.  It's madness out there!
5.  Okay, so I know everyone has seen it by now, but the Dog Shaming tumblr absolutely cracks me up in a way that is immature and ridiculous.  This one particularly makes me laugh like an eight-year-old boy.