Back in June, I mentioned that I was beginning an exercise program because I was going to be running from zombies sometime in the future.  Folks, the future has happened.
June: I sucker convince my friend Danielle to (pay $77 and) sign up with me for the zombie 5K occurring in October.  In preparation, I start running quite a bit.
July:  It's a million degrees hot in the San Fernando Valley and I run zero times.
August:  See July.
Early October:  I panic because the zombie apocalypse is upon us and I have not run in two months.  Regardless… see August.
October 15th:  Husband seems startled to realize that I will be gone all day on Saturday.  I (sharply) remind him that he's known about it for months.  It turns out his surprise is not about having to tag in for an all-day kid extravaganza, but because I clearly am not remotely in shape to run a 5K.  I am chagrined.
October 19th:  I text Danielle to see if, instead of running in the 5K, maybe we should instead go wine-tasting in Temecula.  Danielle reminds me about the $77 (each).
October 20th:  I pick up Danielle at her place.  We compare outfits and shoes and hairstyles, and I remind her to bring a towel.  We hit the road, first stopping at Starbucks (duh).  A couple hours and lots of girl talk and several navigational errors later, we get to Vail Lake Resort in Temecula.  The emails said we're supposed to show up 2 hours in advance of our race.  Our race wave starts at 3:30.  It's currently 2:45.
We park in a giant dustbowl of a parking lot, remind each other that we need to pay attention to the location of the car, and promptly forget to do so.  After a thankfully short visit to the port-a-potties, we trot up a long, crowded path winding through scattered trees and over rickety wooden bridges.  Along the way, we gawk at the earlier runners who are now making their way back to their cars.  Some are spattered in what I assume hope is fake blood.  Most look tired but happy.  All are covered in mud.  One has an ankle wrapped in duct tape and is being carried.  We both wish we hadn't seen that last one.
Cresting a hill, we see a lake, an area filled with camping tents, and zillions of people, some in crazy costumes.  This is the point where we realize… uh, most everyone appears to be in their twenties.  Their early twenties.  This is a festival of weirdness, like Burning Man except, I can only assume, with less drugs.  We are not sure why this didn't occur to us before.  After rushing through registration, we're careening between the big tents to the start of the race, and we can hear one of the indie bands playing onstage.  They're doing a punk version of Call Me Maybe and it is fantastic.  We sing along, just a little.  After all, like someone here is going to think we're weird?!
We strap on our belts and get ready.  Each belt has three flags stuck on with velcro, and the point is to make it through the 5 Ks without letting a zombie snag any of your flags.  I have no hope of doing so, and only want to get to the end without actually dying.
The race starts in a narrow, dark, scary tunnel.  A couple hundred runners (and I use the word "runner" loosely when associated with me) cram inside.  I never hear a shot blast or a scream to GO or anything, but suddenly we're all moving.  Danielle and I are already giggling as we burst out into the sunlight, especially when literally 20 seconds into the race, I stumble on something — like a pebble — and almost fall down.
And then we see something that is way more terrifying than a zombie.  It's a hill.  Nay, a mountain.  It's made of dirt, the really dusty, unpacked kind of dirt that scuffs up into your lungs with every step.  The beginning of the 5K starts at the bottom of this mountain.
Not cool.
The architects of this race are smart, because by the time we come across our first patch of zombies, we are already exhausted from our climb.  No one is running — like no one – and our entire horde of people are just trying to make it up the hill.  Danielle thinks she might throw up and I'm regretting an entire summer of non-exercise.  The trio of zombies are lurching around, making guttural noises and trying to grab flags.  As is pointed out to me later, my avoidance technique is a unique one.  It involves screaming and arm-flapping.  It's also not very effective, as my first two flags are nabbed almost immediately.  Danielle only loses one.  Luckily, shortly thereafter, we discover a "health pack" in a bush and we each get an extra flag.
Most of the "race" (also using that term loosely) goes like that: walking in dust, gasping for breath, followed by short bursts of sprinting around zombies, and then much more gasping.  Someone tells me that putting the flag directly in front of your lady parts means that the male zombies are less likely to make a grab for it.  I have no shame and wear the flag right in front.  Go on, zombie dudes.  Make our mutual undead day.
Danielle and I both end up back at one flag, I think before we get to the first obstacle.
Oh yeah, did I mention that it's an obstacle race?
The first obstacle is a small hill (an actual hill, as opposed to the mountain) of wet dirt that must be clambered up on hands and knees.  On the other side is a slope down into a pit of muddy water.  Danielle and I briefly consider going around but then remember that we gave up wine-tasting for this.  If we're going to do it, let's do it.  We end up covered in mud from the knees down.  It makes running a lot harder because our shoes now weigh twice as much.
At some point, as Danielle was again threatening to vomit, and I was wondering if numb shins could be a sign of stroke, we recognized our desperate hope that actually finishing this horrible race would fill us with a sense of accomplishment, instead of just being gross and mad.
I don't remember the exact order of the obstacles, but there were more mud pits, and walls to climb over, and barbed wire to crawl under.  By the time we got to the zombie house, we were beyond filthy.
The house had cut-out windows in the front, and a solitary zombie paced back and forth before it, doing his very best to impersonate Darth Maul right before he hands Qui-Gon his ass.  And here I was thinking the zombies weren't supposed to be sentient…
Anyway.
We had already heard tales about this one.  The inside of the house was purported to be covered in LIVE WIRES which could actually shock you.  While the Darth Maul zombie was terrorizing some runners on the other side of the house, I scrambled through a window and took a second to let my eyes adjust to the darkness.  Here's what I saw: long curlicues of wire dangling from the ceiling at about 16-inch intervals, and a particularly scary looking zombie crouched in the far corner.
And then — there's really no other way to explain this, people — I turned into a superhero.  Seriously.  I was a ninja.  A stealth ninja with night vision.  I slalomed between those live wires, ducking and diving, without getting shocked even once.  I was awesome.  I skated right past the super-scary zombie and blasted triumphantly out the back of the house into blinding, blessed sunlight where…
… some chick zombie immediately grabbed my last flag.  I uttered a word that my mom probably wouldn't want me to say in public, and the zombie said, "Sorry, dude."
Dammit.
By this time, Danielle had also lost all her flags.  It actually gave us a great sense of freedom to know that the zombies no longer carried any danger for us.  We were — metaphorically speaking — already dead.
The last three obstacles were the craziest.  One was a tunnel under barbed wire held up by wooden triangles.  Danielle noted that we were totally like Private Benjamin as we wriggled through the mud.  The second was a tall grid that we had to climb up to a platform, and then slide down into a pool of muck.  Danielle and I counted to three and slid together.  It was gross, for sure.
The last obstacle was another crawl-through-mud thing, but this time it was going under an electrified span of metal fencing.  Danielle and I celebrated our smallness as we began wriggling underneath.  At some point — remembering my ninja moves from earlier and wondering if, in fact, I had just been misled as to the actual potency of the "live" wires — I speculated that the fence was not, in fact, electric.  I arched my back and ZAP!  Electric, definitely.
So we didn't finish with any flags but, as it turned out, we did have a heady sense of accomplishment.  It was really, ridiculously fun.  Even the part afterwards when we "bathed" in the muddy lake and changed clothes in a giant tent with a ton of other dirty women.  Even the part where the one free drink that came with the $77 entrance fee was Coors Light.  Even the part where Danielle noted that, had we been younger and looking for love, we could have gotten nerd-laid in a tent while the indie bands played into the night…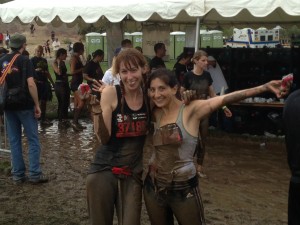 But since we weren't, we instead drove to a (thankfully dim) wine bar and chatted for a couple hours about family and career and such.  The next day, I was horribly sore, but the NEXT day after that, guess what I did…
Yep.  I went for a run.  Thank you, inspirational zombies!