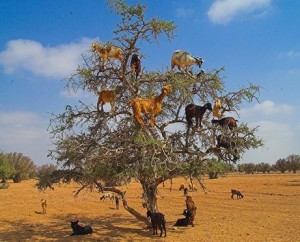 1.  Those goat-climbing goats above exist in real life.  Aren't they cool?  If you follow the link and read the article, however, you will notice a disturbing similarity to a previous post…
2.  Although I am not a big restaurant-goer, I have recently discovered not one but TWO new L.A. restaurants that I adore.  Both gastropubs.  Both with small plates (my fave) for sharing.  Sadie in Hollywood (Pantages Theatre adjacent! mixology galore! fancy deviled eggs!) and The Village in Studio City (drinks with bacon!).
3.  As this is technically supposed to be a blog about writing, a couple tiny updates: creative work on Henson project to start up in the new year (yay!).  Also, deal made on another television project — this one a soapy, dramatic adult series in an area I'm passionate about.  It's very exciting for a couple reasons.  I'm new to working with FanFare (producers) and the people over there have been so lovely and communicative and gracious.  Also, the studio exec (Sony) is one with whom I've been DYING to work for several years now.  I'm not giving out names because I don't know how much Hollywood people want to be touted on a YA blog, but they're just so very wonderful.
Speaking of YA, one book is on submission with my agent and I'm doing the early research/outlining work on a new one (contemporary), while also diving into a new pilot spec.  After running the pitch/meeting gauntlet for several months now, I can't begin to explain how great it feels to have the writing floodgates opening.  I am one of those weirdo writers who actually enjoys the meetings, BUT they do often get in the way of… y'know… writing.  Taking dozens of meetings feels like validation which is a good thing (or just a testament to my ego), but between the scheduling and the prep work and the follow-up — not to mention the L.A. traffic — they take a lot of time and creative brain-space.
4.  I know I'm supposed to be watching HOBBIT and DJANGO and PI, but instead, I've recently watched CELESTE AND JESSE FOREVER and RUBY SPARKS.  Apparently I love smaller relationship dramas with interesting characters and witty banter.  Love love loved them both.  Eventually I'll get around to those others.
5.  Things that skeeve me out: feet (other people's)*, when potatoes start growing eyes, tiny peppers that grow INSIDE other peppers, and the movies SE7EN and VOLCANO.  I'll elaborate in a future post (hold your breath!).
Whatever celebrations you and yours enjoy, happy holidays!
*All babies are exempt from this rule; also my own kids.