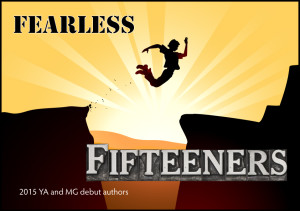 Dear YA & MG* authors with a traditionally published book debuting in 2015,
Heads up!  Please consider joining the FEARLESS FIFTEENERS.**  We are a group of authors banding together to promote, support, and help each other… and we'd love to have YOU join us!
We are open for applications TOMORROW, and you can check it out right here.
Trust me — it's going to be fun. ***
xo,
Jen
* YA = young adult; MG = middle grade
** In the tradition of OneFourKidLit and The Lucky 13s and the Apocalypsies and the Elevensies…
*** You might want to stop by just to find out what freaks me out… and what doesn't.