YA Author. TV Writer. City of Angels.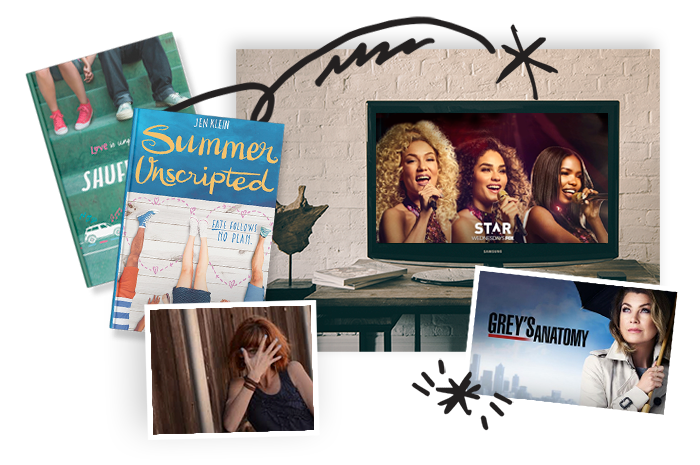 Hi! I'm Jen Klein. I write YA romance, both contemporary and paranormal. I'm also an Emmy-nominated TV writer who worked on Grey's Anatomy and now works on Star. I live in the City of Angels with my husband, two sons, and several animals, all of whom are unruly and ill-behaved.
Originally from North Carolina, I eventually ended up in L.A. where I live-tweeted celebrity events (for money) and wrote all kinds of craziness, including: logic puzzles, a movie for Lifetime, oodles of great cartoons and things you may or may not have seen on television. Then I simultaneously landed my dream job and returned to my first love: writing novels. And here we are. 

10 Things You Don't Know About Me
1. I spent time at George Lucas's Skywalker Ranch writing for THE CLONE WARS. Yes. It was as awesome/geektastic as it sounds.
2. I keep meaning to exercise. This year, I went so far as to buy fancy exercisey shoes. I've worn them once, but only to the office.
3. I'm from North Carolina and went to college in Boone: a little intellectual/hippie town in the mountains. For one crazy, shining summer I was employed as a dancer in an outdoor drama called "Horn In The West."
4.I cannot stand feet (those belonging to other people; my own are fine).
5. I have written one-act plays. They have been performed in New York, Los Angeles, and a handful of small towns in North Carolina.
6. The twins from the new Fuller House TV show are my god children.
7. I love – LOVE – John Hughes. His movies are so evocative of that time when the world is so new but you feel so old. Also, I will never outgrow the Star Wars trilogy, Dirty Dancing or The Three Amigos.
8. I don't believe in writer's block. I only believe in doing or not doing.
9. I once consulted on a book about roller coasters. (Note: roller coasters make me throw up.)
10. Writing for TV (Star and Grey's Anatomy) is the other best job in the world because it combines three cool parts. Part one: hanging in a room with smart, interesting people while talking about story and character. Part two: retreating to my cave for the Actual Writing. Part three: being on set and watching the cast and crew breathe life into the story. YES.